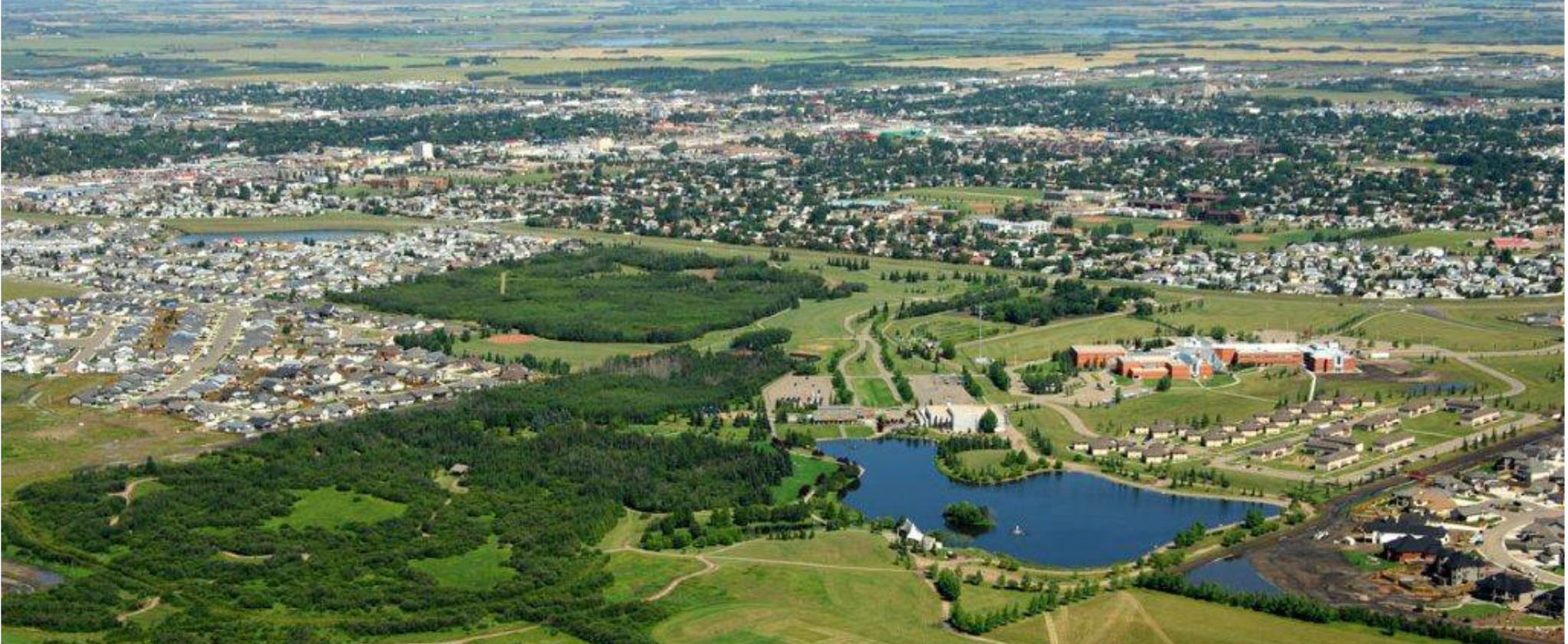 The management and staff of Coldwell Banker City Side Realty believes in supporting our community and giving back in meaningful ways!
MAKE YOUR MOVE!
Make fewer trips to and from with the use of our handy trailer! As a service to our clients, our trailer can be booked for use on moving day, just to make things go a little smoother!  We do book on a first come, first serve basis.  Just another perk to being a client of Coldwell Banker City Side Realty!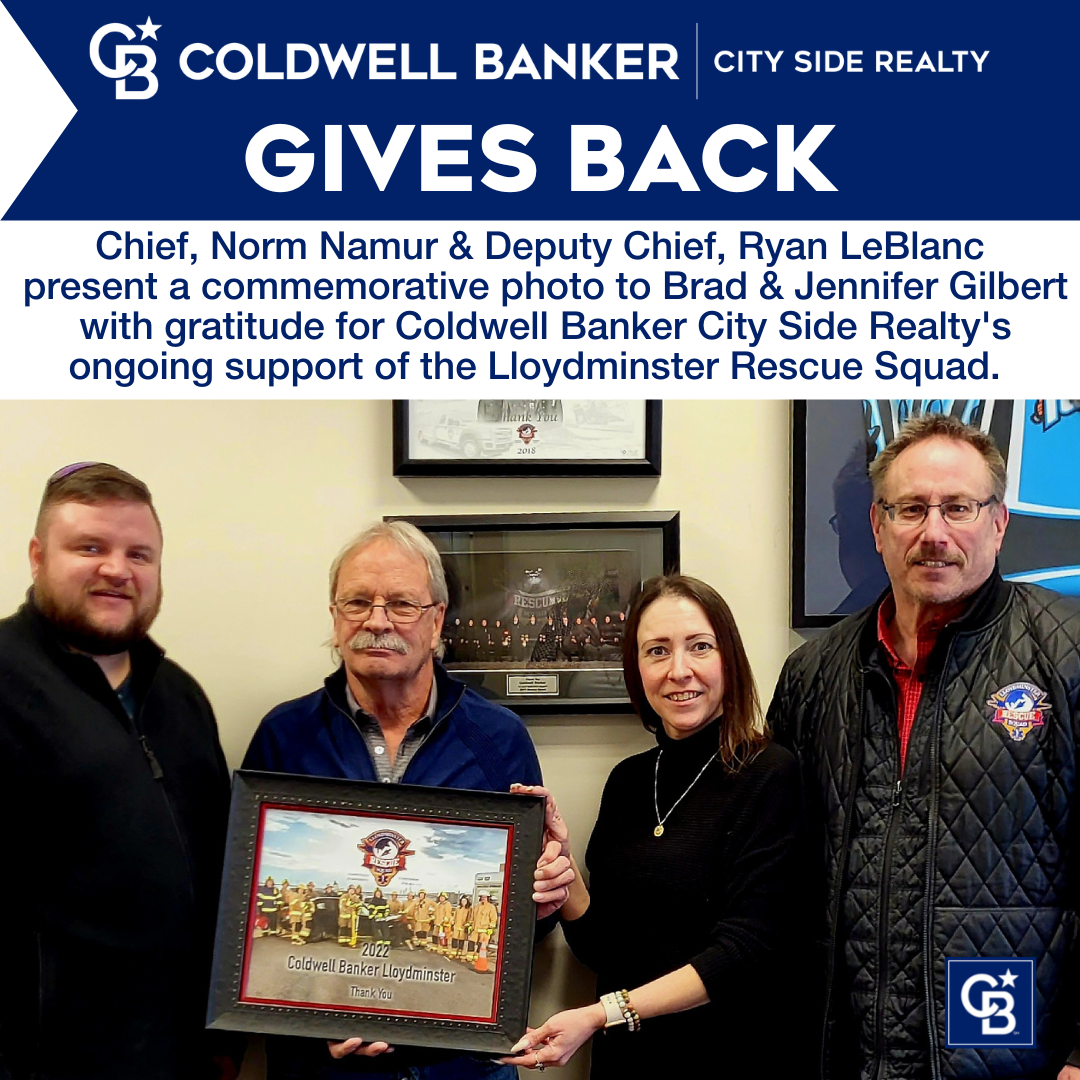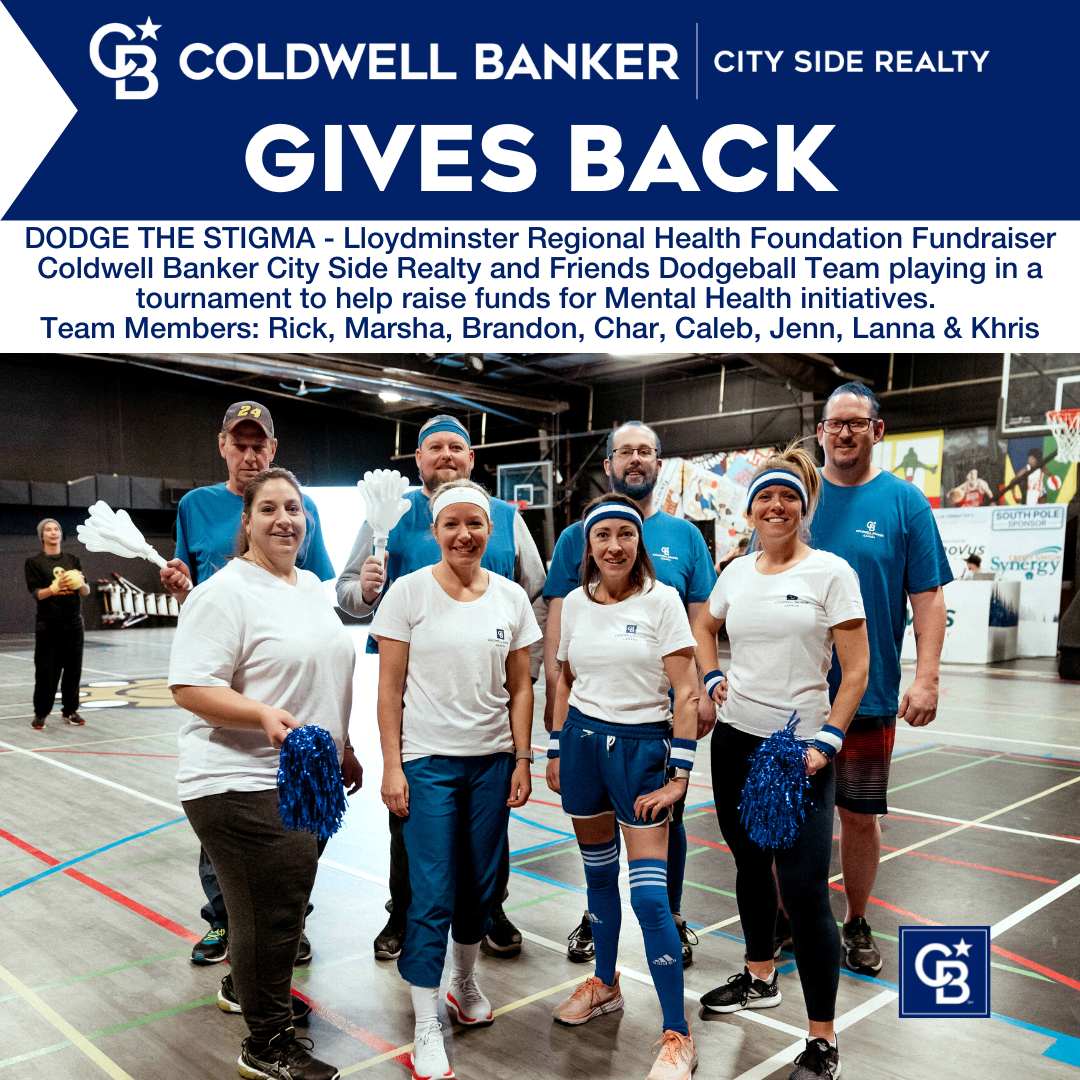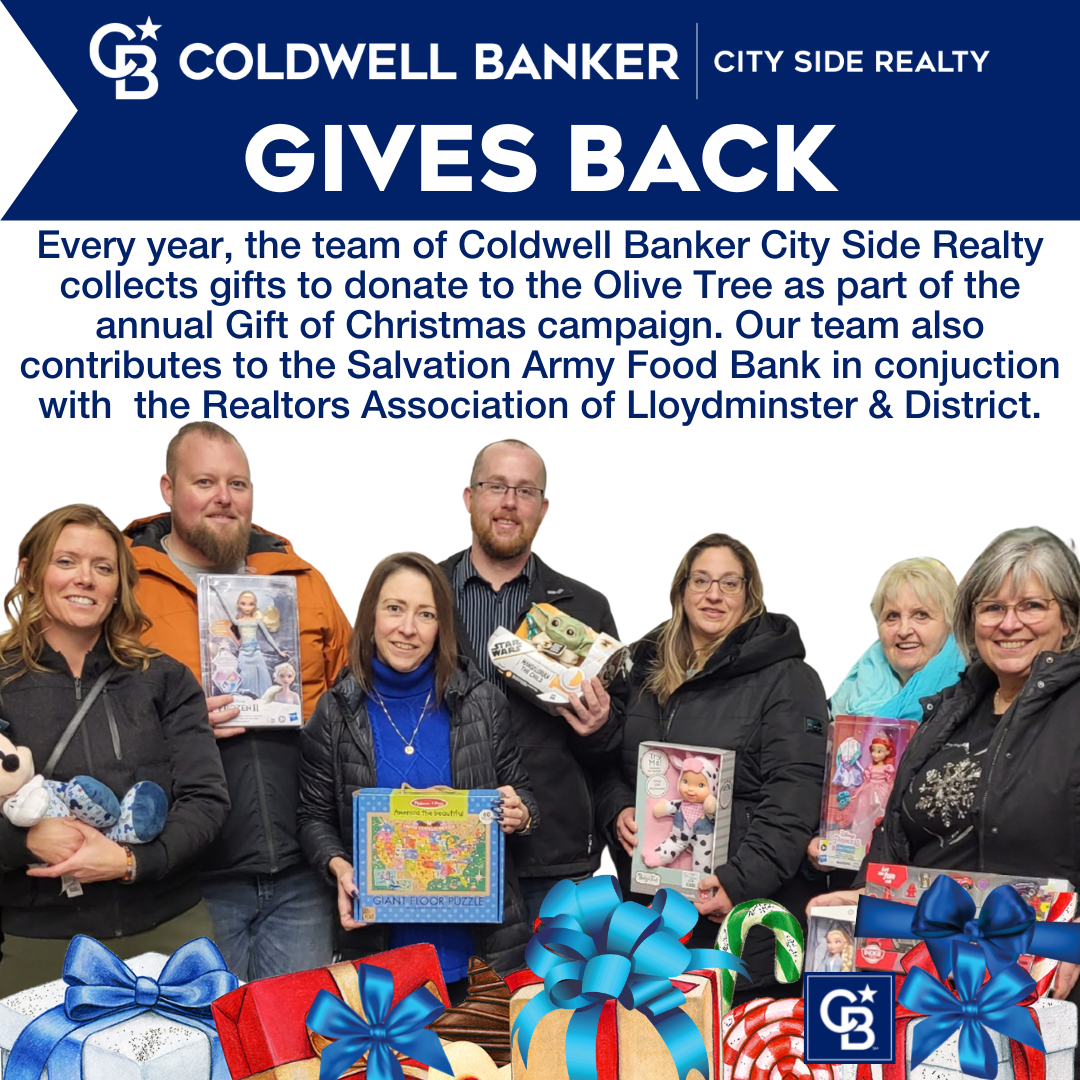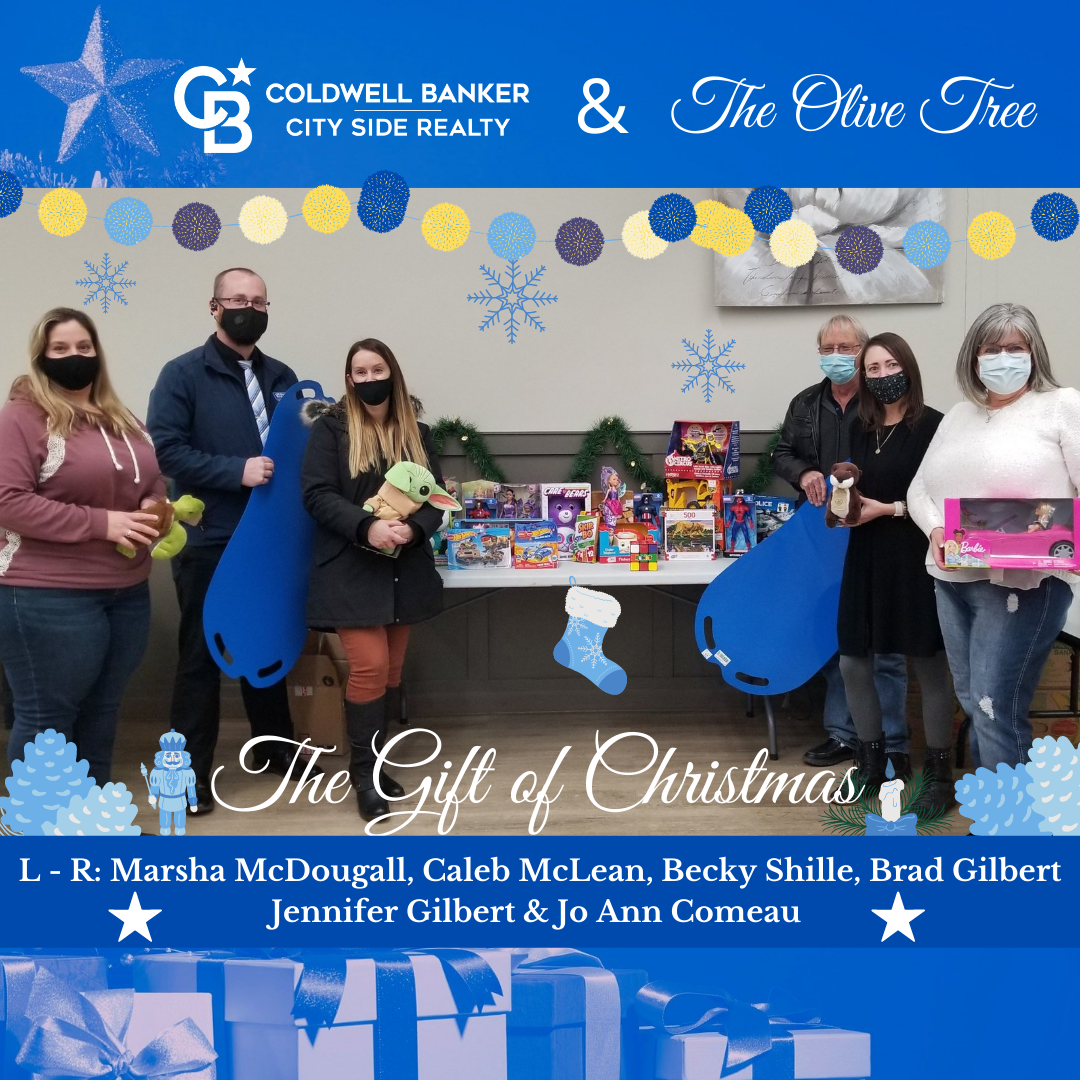 It is our tradition to give back to our community in many ways, including the Gift of Christmas, by donating new, unwrapped toys that will be delivered to children and families in need during the Christmas season!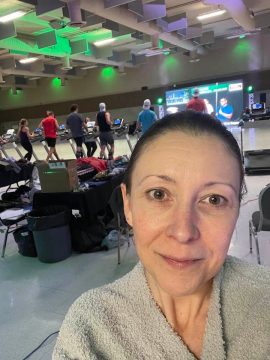 Our very own Jennifer Gilbert amazed us all by becoming a runner, and donated her time training, running, and raising funds for the Lloydminster Health Foundation Gift to Health Digital Stream!  Funds raised will go to purchasing diagnostic equipment for the hospital!  Our staff and the community of Lloydminster are so proud of her!
"Surpassed my goal, and got 65.42k in today! And helped to raise $500k for our Health Region. Lloydminster's Gift to Health – Digital Stream
"  – Jennifer Gilbert
We LOVE our community!  We believe in supporting many non profit organizations in creative ways!  When the Lloydminster Big Brothers and Big Sisters called for participants for their 50 Minutes for 50 Years Activity FUNdraiser, we jumped at the opportunity to get our team involved.  Each member of our office and special guests walked / ran on our treadmill for 50 minutes each for an entire day on May 18th!  With contributions from our staff, our office and members of the community, we were able to raise $1298.05 to donate to Lloydminster Big Brothers and Big Sisters!  Thanks to everyone who participated and donated!!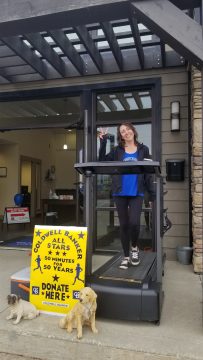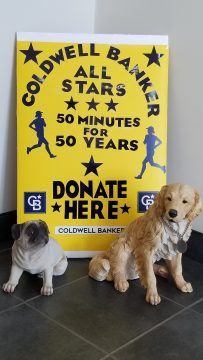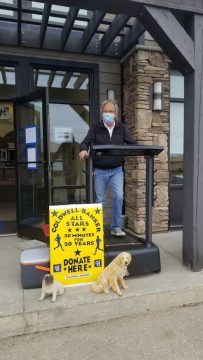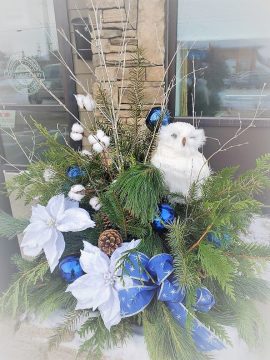 Thank you to Flowers on the Fly by Audina for her creativity in decorating our office planters for the holidays!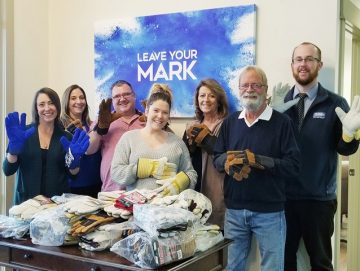 The team at Coldwell Banker City Side Realty donates dozens of work and winter gloves to The Residents in Recovery Society! They are also in need of winter jackets and warm hats. When donating, please consider Residents in Recovery, a great local organization helping so many individuals in need.
Pictured are Jennifer, Marsha, Tyler, Sham, Judy, Brad and Caleb.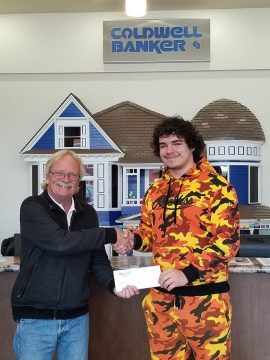 Sean Reimer is representing Lloydminster for the Track and Field outdoor season in Quebec and Nova Scotia! He is 16 years old, competing in the U18 age category for Track and Field and is ranked 10th in Canada for Weight Throw and 20th in Canada for Shot Put. He currently holds school, city and district records for 100 m sprint, long jump, shot put, triple jump in Lloydminster. Sean was a medalist at Saskatchewan Provincial Track last year. He is a member of Split City Sonics Track Club, and competes monthly in Edmonton. Sean has placed 1st in his events all winter.
It is our pleasure to help in some small way with his Journey to Quebec and Nova Scotia this summer!
Sean Reimer accepts a donation from Broker, Brad Gilbert.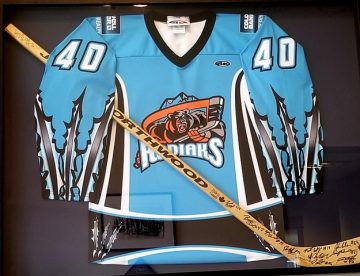 Coldwell Banker City Side Realty are proud sponsors of the
Coldwell Banker Kodiaks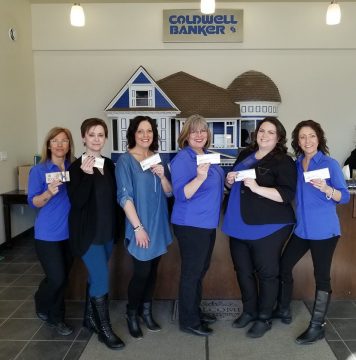 On March 14th, 2018 – the Ladies of Coldwell Banker City Side Realty  presented their cheques to the 100+ Women Who Care – Lloydminster & Area!  Together we raised $25,700 for Inclusion Lloydminster!
Make It Matter – March 2018
Drop by our office to view these, and other beautiful works by local artist Danielle Vachon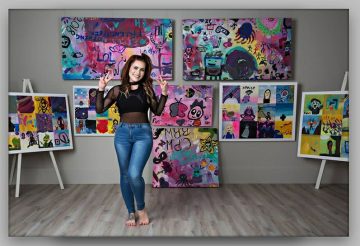 Local Artist Danielle Vachon started an initiative to engage Lloydminster Youth during "Pay It Forward February", as a way to stimulate creativity and cooperation amongst our city's young people.
With these kids, together, they created "THE AMAZING CROUCHING DUCK SERIES" of artwork. There are eight original pieces of art, which are displayed at
Coldwell Banker City Side Realty – 3812 – 51st Avenue 
and will be available for purchase. All proceeds raised from this art show will be donated to the LLOYDMINSTER YOUTH CENTER!
**********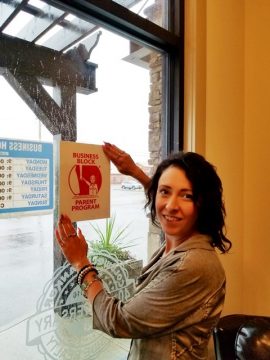 Coldwell Banker City Side Realty is proud to support the Block Parent program by becoming a Business Block Parent. If anyone, child or adult, is in a situation where they require immediate assistance or feel unsafe or threatened, they can enter our business and get help.
Coldwell Banker City Side Realty – because a Safe Community is our Business too.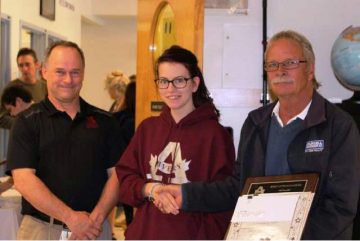 Avery Outreach School – Most Outstanding Student 2017
presented to Kimberly Kerr by Brad Gilbert, Broker/Owner Coldwell Banker City Side Realty
Every year, our team remembers others in our community who have maybe fallen on hard times due to the economy or health, and we love to help out!  Everyone deserves to have a bright and merry holiday season, and we contribute to various charities including:  The Salvation Army Kettle Campaign, The Salvation Army Food Bank and the Gift of Christmas!  The greatest blessing is to be a blessing to others.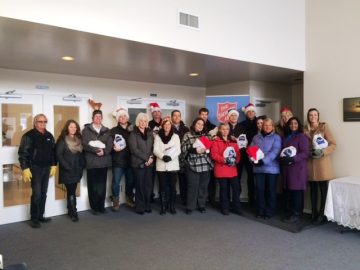 Thank you to everyone who donated to the Baby Cassandra Bottle Drive, helping support Baby Cassandra and her family as they travel for medical procedures.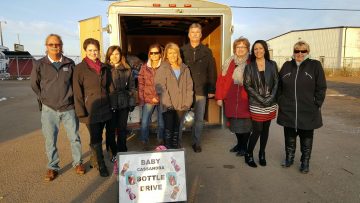 $4085 RAISED FOR CYSTIC FIBROSIS FOUNDATION!
Thank you to everyone who came out and celebrated our 40th Anniversary Barbecue and Parking Lot Party!
To everyone who showed up, donated prizes and cash, celebrated, had their face painted, enjoyed a burger or hot dog, participated in the dunk tank, golf challenge, bouncy house, raffles,  or just had a great time, we say thank you from the bottom of our hearts.  Our 40th Anniversary was truly a celebration and a huge success!  We are proud to be part of the great City of Lloydminster and are overjoyed to have shared this special event with you!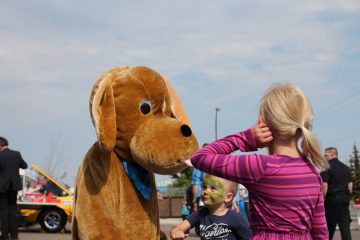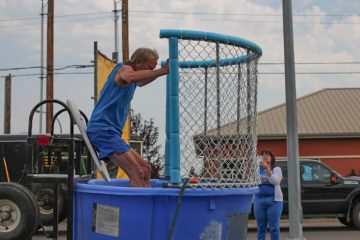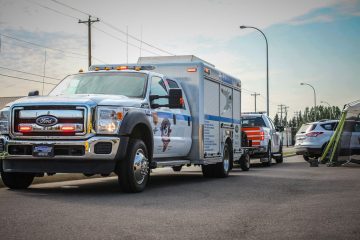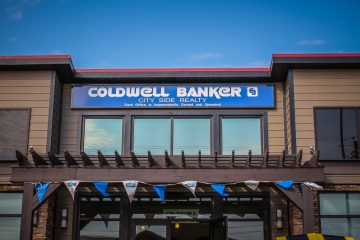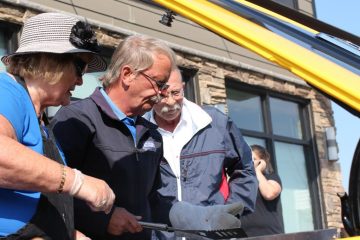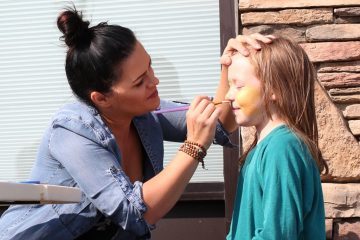 Each year, our Broker, Brad Gilbert, attends the Avery School Annual Awards luncheon, and presents the "Most Improved" student with a scholarship for all of their hard work!  Congratulations to the 2016 Recipient, Lavander Sinclair!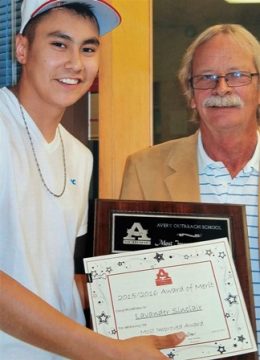 In support of the Real Estate Association of Lloydminster & District,  our staff generously contributes with their time and donations of toys to the Gift of Christmas, The Salvation Army kettle campaign,  food bank, the Lloydminster Men's Shelter and the Lloydminster Interval Home.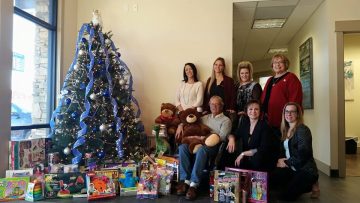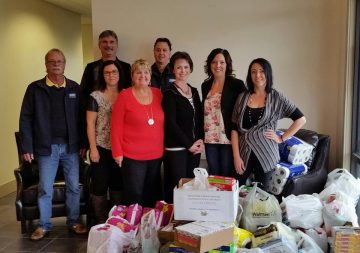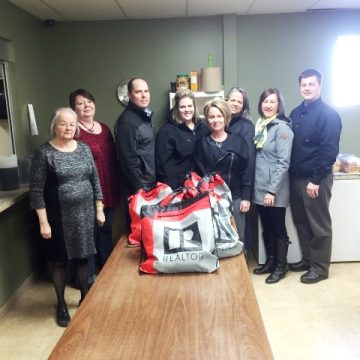 Past supporters of Big Brothers & Big Sisters Bowl for Kids!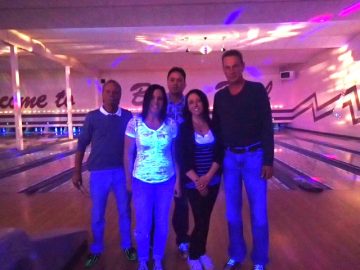 Sponsors of the Lloydminster Rescue Squad Sirens and Sapphires Gala.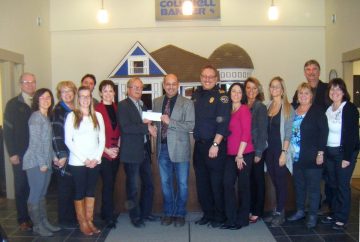 Sponsors and supporters of the Coldwell Banker Kodiaks Sr. Men's Hockey Team!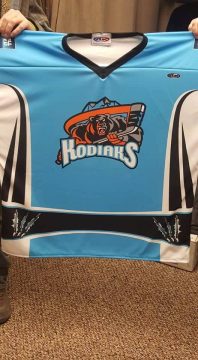 We are supporters of various Lacrosse, Jr. Hockey, High School Basketball & Martial Arts teams and individuals.
We proudly contribute to the MS Walk each year.
The Story of Our Artwork:
Did you know our office is gallery space, provided to local artist Danielle Vachon?  When we moved into our new building, we needed to fill our walls with artwork. It was decided we would provide space to a local artist, who could display their work, and have a central location for clients to come and view and purchase their pieces!  It's been a wonderful relationship, as Danielle has a place to show her work and we have constantly changing art displays decorating our walls!